---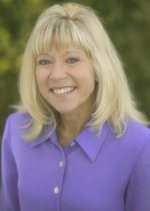 Nancy Wilson is a dynamic speaker and author who combines a zest for life and people. Nancy has over 30 years of ministry experience. As a result, she clearly communicates with conviction and compassion to this generation.
For 25 years, Nancy served as Associate National Director of Cru High School (formerly Student Venture), the high school and junior high outreach of Cru (formerly Campus Crusade for Christ International).
She now serves as Global Ambassador with StoryRunners, a mission of Cru to unreached people groups. (You can find out more about StoryRunners at www.storyrunners.com ...)
Nancy travels extensively and is a frequent speaker to audiences of all ages in the U.S. and internationally as a global ambassador for Cru.
She has spoken to thousands of young people and challenges them to passionately pursue a relationship with God and become an ambassador for Jesus Christ.
Nancy resides in Florida and her family lives in St. Louis, Missouri. She has four brothers and one sister and is a proud aunt of 15 precious nieces and nephews.
Visit Nancy's Website: www.NancyWilson.org
---
2 Ways to listen to past shows:
1. Left Click date to "Stream" show and it will play like the radio or...
2. "Right Click" on date then select "Save Target As" (or similar i.e.: 'save link as') and a copy of the show will download to your device free.

---

"The Power of Thanksgiving and Praise!"

Special Guest:

Don Lawton

---

"Harvest Time"

Special Guest:

Suliman Mohamed

---

"Let Love Loose"

Special Guest: Kathy Branzell,

National Coordinator for LOVE2020

www.LOVE2020.com www.DayToPray.com

---

"Deliverance to Disciple"

Special Guest:

Texas Stready

Author of Deep In The Heart of Texas. A Memoir

www.aradicaldifference.com texas@aradicaldifference.com

---

"Impacting and Equipping a Strategic Generation"

Special Guest:

Julie Loos
www.RatioChristi.org www.RatioChristi.org/Boosters —see especially the Prepare Page and the Blog Page
https://momsinprayer.org/get-involved/join-a-group/college-praying-moms/ -- direct link to College groups page resources
http://mamabearapologetics.com/ -- great intro apologetics podcasts for moms
---

"In the Spirit of the Moravians...The fields are ripe for harvest!"

---

"Rebuilding Prayer Foundations"

Special Guest: Mark Mirza
Writer/Speaker/Founder of Common Thread Ministries
www.MarkMirza.com

---

"Rocking the Campus through Prayer"
Guest: Billy Mogensen,
Missional Team Leader for CRU at Boise State University

---

"Pursuing the Presence and Power of JESUS"

Special Guest: Chris Ngai,

Campus Revival Prayer Leader

Author of A Vision of Revival for College Campuses www.visionofrevival.com

http://www.collegiatedayofprayer.org/February23rd

---

"PREPARING THE WAY FOR THE KING"

Special Guest: James Nesbit

James has been used by God to help prepare the way for the coming awakening in America through strategic level intercessory assignments. He has unique insight and understanding.

Overseer of HAPN (Heartland Apostolic Prayer Network) for the region named Joy Number Nine, which includes the states of Missouri, Kentucky, Illinois, Indiana, Ohio, and Michigan.

James also has a strong prophetic art mantle resting upon his life. He believes prophetic artists have a Hab. 2:2 assignment to write the vision and make it plain so the body can quickly understand it and run with the word of the Lord. As the old saying goes, "A picture is worth a thousand words."

Peter Wagner and Cindy Jacobs have proclaimed him one of the leading prophetic artists in the earth today.

The Lord has seen fit to allow his artwork to be displayed in many nations throughout the earth.

James says, "I married over my head." Anyone who meets his lovely wife Colleen would agree, and they have been blessed with a wonderful son Isaac who is now 23 , 6'3" and growing.

He can be reached at nesb7@aol.com www.jnesbit.com www.ptwministries.com

---

"LET THE CHILDREN COME"

Special Guest: Cindy Finley

Global Ministry Director, RiverCross

---

"I'M NOT ASHAMED"

Special Guest: Kirra Sebastian, High School Student

www.ImNotAshamedFilm.com/IAMHOPE

---

"GOD'S HEART FOR ISRAEL"

Special Guest: Pastor Blake Lorenz, Encounter Church, Orlando, Florida

www.EncounterFL.com www.BlakeLorenzEvangelistMinistries.com

---

June 2016 Show

YOU ARE INVITED TO A WEDDING!

Guest: Liz Doyle

Nations Light Ministries
---
VICTORY IN CHRIST

Guest: Javed Massey

Pakistani Financial Advisor and Ministry in Pakistan with Compassion Ministries

www.compassionministrieslbi.org

Javed.massey@ceteraadvisors.com
---
PASSOVER MIRACLE
Special Guest: Israel Cohen, staff with Chosen People Ministry
www.chosenpeople.com www.ifoundshalom.com www.isaiah53.com

---
Special Guest: David Bryant
Over the past 40 years, David Bryant has been defined by many as a "messenger of hope" and a "Christproclaimer" to the Church throughout the world. Formerly a pastor, minister-at-large with the InterVarsity Christian Fellowship, president of Concerts of Prayer International (COPI) and chairman of America's National Prayer Committee, today David provides leadership to PROCLAIM HOPE! whose mission is to "foster and serve a nationwide Christ-awakening movement" www.ProclaimHope.com. For decades David played a widely visible role in the emergence of an unprecedented, worldwide prayer movement by capitalizing on city-wide mass prayer rallies; national and international conferences; training videos, seminars and manuals; development of leadership coalitions; the mentoring of younger leaders; and media outreach (both TV and radio). Among his writings are five key books: In the Gap: What It Means To Be a World Christian; With Concerts of Prayer: Christians United for Spiritual Awakening and World Evangelization; The Hope at Hand: National and World Revival for the 21st Century; and Messengers of Hope: Becoming Agents of Revival for the 21st Century; and Christ Is ALL! A Joyful Manifesto on the Supremacy of God's Son. Since 2010 David has conducted an ambitious outreach to encourage Christ Awakening movements, nationwide and beyond, called The Christ Institutes (TCI). The goal is: "Exploring and Experiencing the Spectacular Supremacy of God's Son". A follow-up companion to the TCI course is David's Christ Is ALL! (with over 500,000 Mandarin versions alone being used to train Chinese church leaders). TCI has been professionally filmed and now is presented as The Christ Institutes Video Training Series (involving over 3000 graphics throughout the nine sessions.) In conjunction with the TCI project, David and his team currently are spearheading a first-ever website, www.ChristNow.com This web outreach provides a central hub for ever-expanding free resources, including teaching videos on the vastness of Christ, Christ-exalting worship music, video testimonies about personal awakenings to Christ, blogs on our Lord's reigning majesty and more. PLUS, a free one-of-a-kind, eight-week daily email video series to help Christians spend a few minutes a day focused on the spectacularly supreme Son of God. CHRISTNow.com is serving a growing nationwide Christ Awakening movement.
---
COLLEGIATE DAY OF PRAYER ... POWER FOR REVIVAL!

Special Guest: David Smithers
from the Collegiate Day of Prayer National Leadership Team.

www.collegiatedayofprayer.com www.campusrevewal.org
---
ARISE, 2016 VISION FOR THIS GENERATION
Guest: Glenn Sheppard, President of International Prayer Ministries
---
ARISE AND SHINE FOR HIS LIGHT HAS COME
Special Guest: Phil Cohn, Founder and President of Christ for All
---
LIGHT PIERCES THE DARKNESS
Special Guest: Ashraf Ibrahim, Director of www.LiftYourEyes.org
---
A DAY TO PRAY
Special Guest: Skeeter Smith, Jr. High School Football Star
---
Bold Faith in the Face of Persecution

Special Guest: Djasrabe Siangar Area Team Leader Francophone, Africa
---
You have Beautiful Feet.
And Nancy talks about her time with dolphins.
---
More of the greatest stories of all-time.
---
Special Guest: David Williams
Associate Staff with CRU / Speaker / Youth / Abortion
---
Mie Millard,
Intern with StoryRunners

'I HAVE SEEN THE LORD'.
---
Jeremy Story
the President of Campus Renewal Ministries. He also serves on the Executive Committee of America's National Prayer Committee, as well as Intercessor's for America.
---
January 2015 Show
"LOVE POURED OUT AND MULTIPLIED"

Guest: Epafura Mwami Thembo, Leadership Consultant, Musician and Songwriter, ICT | Electrical Systems' Management and Technical Education Practitioner, Keynote Speaker and Author

Epafura Mwami Thembo is a Leadership Consultant, Musician and Songwriter, ICT | Electrical Systems' Management and Technical Education Practitioner, Keynote Speaker and Author, whose mission is Reconciling Societies through Strategic Positioning, Peace Making and Love.

"WHAT EVER GOOD YOUR HANDS FIND TO DO, THEN DO IT", with this in mind, professionally and on a personal basis, he is often involved in the following: Centralized & Computerized Network Monitoring Systems (ICT), Sales & Marketing, Event Planning &Management, Budget Formulation & Implementation, Non-Profit Management, SME Management, Farming, Training, Strategy & Negotiation, Research, Public Speaking, Community & Institutional Transformation Campaigns, Music & Story Telling Performance, Family &Home Management.

Like many other Ugandan and African children, he also has a very painful and good life time story to tell, "Simply from Mt Rwenzori Hills to Reconciling Nations". He has nurtured a great zeal for the love of People (all ages), God and Nation bringing him favors and blessings including friends, a good wife, three (3) children and a pastoral ministry.

He frequently travels to train and share his strengths (giving his life) in Universities|Colleges|Schools, Local Communities and Workplaces within Uganda and beyond.

He has worked with big brands in Uganda like Century Bottling Company (Coca-Cola), Uganda Broad Casting Corporation (UBC) TV and Uganda Telecommunication Ltd (UTL) among others, at the same time raising a powerful foundation in the making (LOVE AGAIN), whose vision is to SEE A GENERATION WHERE THE MIGHT AND WEAK WILL LIVE AND WORK TOGETHER.

While at University in 2003 on a mission trip to Tororo (Eastern Uganda) he was nicknamed Epa and soon became a student leader at campus changing his naming to Papa Epa. He has built this nick name into a great Brand for the Music and Songwriting career (something he loved doing from primary (2) two and finally took off at University, and finishing his First Album; NEW DAY recording in 2014). His music and songwriting talents are now taking the world by surprise while considering a unique passion for WRITING, RECORDING and PERFORMING SONGS THAT WILL FACILITATE TRANSFORMATION IN THE CIVIC, BUSINESS, FAMILY SPHERES OF OUR SOCIETIES AND THE LIKE.

To contact and also find more about how you can work together, leave a message on the following links:

NumberOneMusic.com URL: http://www.numberonemusic.com/papaepauganda

Facebook: https://www.facebook.com/papaepa.uganda
---
A Special Christmas Story
---
September 2014 Show
STANDING STRONG SHARING HIS STORY, #18

GUEST: Daryl Nuss,
Executive Director of National Network of Youth Ministry

www.youthworkers.net and www.accelerate.everyschool.com
---
August 2014 Show
#17 BEING AN INSTRUMENT OF BLESSING

Guest: Pastor Stoney Shaw, of First Baptist Church
in Ferguson, MO
---
July 2014 Show

One New Man in Messiah

Special Guest: Vivian Mau
June 2014 Show
Special Guest: Joey Howell staff member at www.StoryRunners.org
May 2014 Show
Special Guest Marli Spieker, of Project Hanna, a ministery of TWR
April 2014 Show
Mrs. Vonette Bright
In 1951 she co-founded Campus Crusade for Christ with her late husband Dr. Bill Bright. The Brights spent more than half a century building and leading Campus Crusade for Christ to its current size of more than 27,000 staff members and 225,000 volunteers serving in 190 countries. Vonette has authored 15 books, and currently hosts the "Women Today" radio program. While serving 9 years as chairwoman of the National Day of Prayer Task Force, Vonette introduced legislation unanimously approved to make the first Thursday of May the annual National Day of Prayer.
www.getamericapraying.org and www.Nationaldayofprayer.org
www.intercessorsforamerica.org

March 2014 Show
Sister Pinea and Sister Mary Anne

Members of the Evangelical Sisterhood of Mary
February 2014 Show
Another Great Story to Rock your world.
January 2014 Show
Specials Guests with Special Stories
December 2013 Show
Christmas Program
November 2013 Show
Guest: Fred Abok from Kenya
October 2013 Show
Special guests from India: Ivan and Papu
September 2013 Show
Special Guest Nancy Alverez
Tariku Fufa
Below is the link to my narrated 7 minute personal and ministry testimony video that Campus Crusade for Christ has put together.
Israel Program: Guest John Walsh
Rabbi Charlie Kluge
Ali's Story
Nancy Wilson
Nancy's First Show!