---
AudioTopsy
---
MUSIC FOR FILM & TV
---
Robert Kramer Show
"Forward Into The Past"

(Blood On The Full Moon Cuts)

1) Who Says

2) The Eyes Of Nevermore

3) Why Am I In Love With You?


(Remember Their Lives Cuts)

4)Little Brown Dog (Val Leventhal)

5) Voice Of The World

6) Happy Howlin Hound

7) Spacehound Boogie


(Demos - Unreleased Tracks)

8) The Day That I Lost You

9) Forward Into The Past

---
The Robert Kramer Show

"Live & Otherwise"



(Live Performance Recorded at Fitzgerald's Night Club - Berwyn, Illinois)

1) No Luck At All

2) I Burn For You

3) The Way It Is


(Studio Performance - Recorded at Harbor Lights Recording - Aurora, Illinois)

4) Letting It Go

5) Beyond The Great Divide


(Additional Studio Tracks)


6) The Last Of You

7) The Human Element

---
DJ RK spins some great new and old cuts you need to hear!

RK Show Part One Songs:

"Better Living Thru Television"

"Another Part Of the Machine"


RK Show Part Two Songs:

"Clairvoyance"

"Its Not The End Of The World"


RK Show Part Three Songs:

"Guess I Won't Do Drugs Again"

"Night Of The Living Dead Rockstars"

"The Laughing Guitar Solo"

---
Episode 2 - "Ye Olde Tapes"

Songs In Show
1) "Mystery Track" (aka "Final Parting Words") - A country/western song made as a demo- from 2005 - slated for future development & release.

2) "Not Just Another Zappa Copy Band" - a track from the "Dr Bizarro & Disgustos" archive along with discussion - previously unreleased

3) "This Is Yer Brain On Drugs" - another track from Bizarro/Digustos catalog.

4) "Place In My Heart" - Also from the Legacy Of Love albm, an R & B vocal duet with Frank Zappas' premiere lead vocalist/musician Napoleon Murphy Brock, along w discussion.

5) "Maybe" - blues track from 2005 RK album "Legacy Of Love" featuring master virtuoso guitarist Jimmy Ryan from The Flyin' Ryan Bros.

---

#1) Honesty
Musicians: Robert Kramer - bass guitar, keyboards, vocals
Jimmy Ryan - double lead guitars
Gregory Hyde - rhythm guitar, drums, percussion
Recorded at Skyblynde Studios, St Charles, Illinois
Recording Engineer: Gregory Hyde
Notes on song: Jimmy Ryan, guitarist/composer, and member of The Flyin Ryan Bros. (who's also had shows on ArtistFirst) has played on numerous Robert Kramer and Dr. Bizarro tracks.
As an experiment, one small part of Jimmy's lead guitar was copied backwards to enhance a transition in the song.
Gregory Hyde, the recording engineer, also did the drum tracks and rhythm guitar.

#2) Strange Times
Musicians: Robert Kramer- bass, keys, vocals
Gregory Hyde - Handclaps, recording engineer
Recorded @ Skyblynde Studios, St Charles, Il.
Notes on song: A video was produced for release on Halloween using various horror and film noir detective and zombie movie clips. One clip was to include a momentary shot of famed film vampire and horror star Bela Lugosi.
Upon contacting the attorney for his estate to seek permission, we were asked to provide a "licensing fee offer" for their "consideration". We offered $100.00.
They indignantly refused, stating we should immediately edit out any and all images of Mr. Lugosi from our project. So in the end we photoshopped my face into a generic vampire mask and cape..
Editing the video took three months. My first video project.

#3) My Confession
Musicians: Robert Kramer - bass, keyboards, vocals, drum programming
Recorded @: Harbor Lights Recording, Aurora, Illinois
Notes on song: Just a really nice love song. No drama or backstory to it. There is a video for this song.
Preview from the next planned album: "Beyond The Great Divide"
Total removal in style from current tracks. Very jazz oriented. Sting-like. "Dream Of The Blue Turtles" for reference.

#4) Persistence
Musicians: Robert Kramer - vocals, keys
Steve Hashimoto - bass guitar
Heath Chappell - drums, percussion
Leandro Lopez Varady - keyboards
Mike Levin - saxophone
Recorded @: Harbor Lights Recording, Aurora, Illinois
Recording Engineer: George Belle

---

Robert is the Featured Guest on an ArtistFirst Radio Music Special!
---
---
---
Ancient Archives:
ArtistFirst Special Re-Broadcast Dec 2005
---
What Do Successful Musicians Do That You Don't?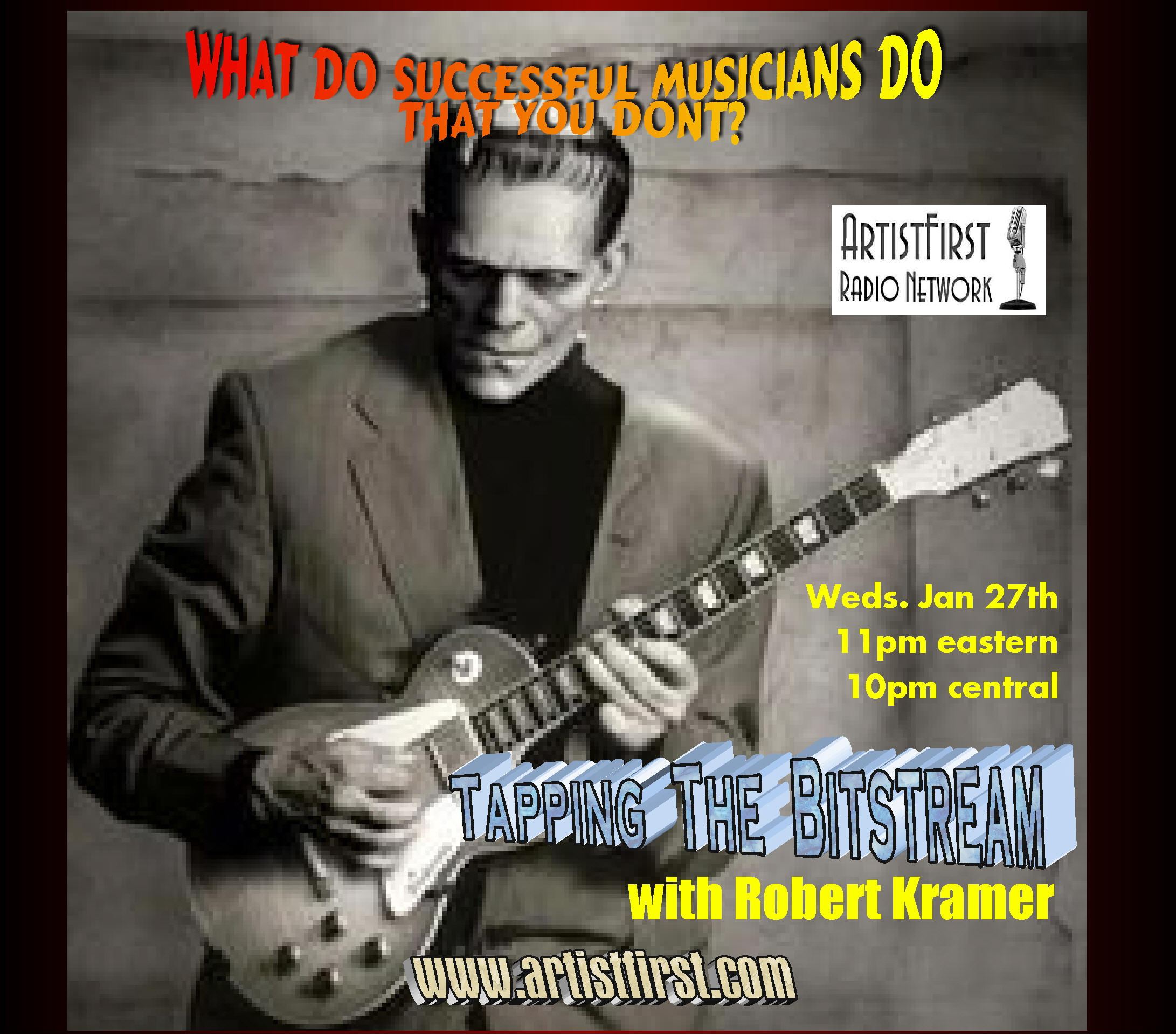 MUSIC SUBMISSION RESOURCES:


TAXI www.taxi.com

Music Clout www.musicclout.com

Film Music Net www.filmmusic.net


Music Delivery Resources To Entertainment/Music Industry

PLAY MPE www.plaympe.com

SONGWRITERS MARKET www.writersdigestshop.com

Musicians Intellectual Law www.musiciansintellectuallaw.com


Reference Source Books:

Talent Is Never Enough by John Maxwell

The Musician's Business and Legal Guide by Mark Halloran, Esq.

---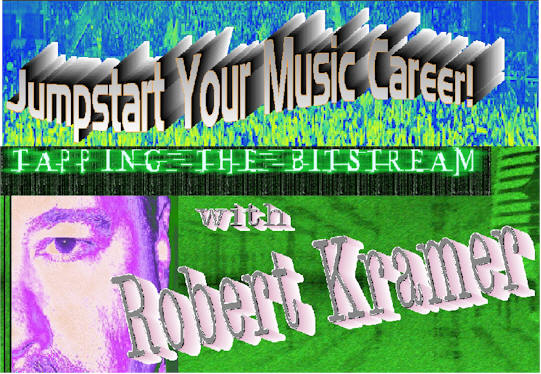 Tapping The Bitstream #3
w Robert Kramer
"JumpStart Your Music Career"
Show Topics:


1) Figuring Out Your Goals

2) Learn The Proper Way To use Social Media

3) Get Out There In Person

4) Put A Team Together

5) Don't Quit Your Day Job...Yet

6) Online Social Media Education Courses

7) Promotional Material

8) Internet Music Campaigns & Radio Advertising


Helpful Career Weblinks

www.artistfirst.com

www.radioairplay.com (www.jangoradio)

Social Media 101
http://www.diygenius.com/10-free-online-courses-in-social-media-and-inbound-marketing/

Music Therapy Website: www.medrhythmstherapy.com

http://www.jango.com/music/Robert+Kramer

www.robertkramermusic.com


---
Tapping The Bitstream #2

Stop Whining & Start Making Money In Music!

DISCUSSION TOPICS:


1) TYPES OF INDIE MUSICIANS

A) PART TIME HOBBYIST
B) PART TIME WORKING MUSICIAN
C) FULL TIME WORKING MUSICIAN

2) INCOME STREAMS FOR WORKING MUSICIANS

A) CD'S/DOWNLOADS AT GIGS
B) MERCHANDISE AT GIGS & ONLINE
C) MARKETING ORIGINAL MUSIC FOR FILM & TV
D) JOBBING (GETTING PAID TO PLAY AT GIGS
E) GETTING PAID FOR PLAYING FOR FREE.

3) JOINING A P.R.O. (PERFORMING RIGHTS ORGANIZATION) ASCAP, BMI, SESAC
A) ASCAP
B) BMI
C) SESAC

4) IS THE SYSTEM REALLY "GAMED"?
FIND OUT THE RULES OF THE GAME AND THEN PLAY IT.



MUSICIAN / COMPOSER RESOURCES

US COPYRIGHT OFFICE
Register Of Copyrights, Library Of Congress
James Madison Memorial Building
101 Independence Ave. S.E., Washington, DC. 20559
Phone#: 202-707-3000
Website: www.copyright.gov


American Federation Of Musicians (AFM)
1501 Broadway Suite 600
New York, NY. 10036
212-869-1330
Website: www.afm.org

American Federation Of Television & Radio Artists (AFTRA)
260 Madison Ave., New York, NY. 10016
212-532-0800
Website: www.aftra.org

Performing Rights Organizations (PRO's)

American Society Of Composers, Authors & Publishers (ASCAP)
One Lincoln Plaza, New York, NY. 10023
212-621-6000
Website: www.ascap.com

Broadcast Music Inc. (BMI)
320 West 57th St., New York, NY. 10019
212-586-2000
Website: www.bmi.com

SESAC, Inc.
55 Music Square East, Nashville, TN. 37203
615-320-0055
Website: www.sesac.com

Additional Resources:

Future Of Music Coalition
1325 13th St NW, Suite 34
Washington, DC. 20005
202-518-4117
Website: www.futureofmusic.org

All Music Guide
1168 Oak Valley Drive, Ann Arbor, MI. 48108
734-887-5600
Website: www.allmusic.com

Songwriters Market
Writers Digest Books,
4700 E Galbraith Rd., Cincinnati, OH. 45236
800-258-0929
Website: www.writersdigest.com

For Film/TV Composers:
Film Music Jobwire
Website: www.filmmusic.ne
---
Tapping The Bitstream #1
On this episode:
FORGET WAITING AROUND FOR THE MAJOR RECORD DEAL
(taking your career by the horns, getting started)
USING ALL AVAILABLE RESOURCES TO ESTABLISH & PROMOTE YOUR BRAND

(internet radio, podcasts, Youtube videos, itunes, etc)
MUSIC & THE MUSIC BUSINESS (INDIE VS MAJOR)
GIGGING & RECORDING
PERFORMING RIGHTS ORGANIZATIONS

(the "pros & cons of joining a "P.R.O." (ASCAP BMI,SESAC)

---