Fridays @ 11am Eastern / 10am Central
Listen LIVE: Click for Live MP3 Signal Click for Live Windows Media Player Signal
~~~~~~~~~~~~~~~~~~~~~~~~~~~~~~~~~~~~~
Host Doug Dahlgren

Georgia author, Doug Dahlgren, is an experienced interviewer with his own unique style. Having eight novels to his credit gives him credibility with other writers and his manner offers them a chance to relax and tell you, the reader, about their work. Doug's books, six of which are a popular series known as The SON Series, are available on Amazon in both paperback and Kindle version as well as through most places where books are sold. You can also learn more about his books through his web page: www.dougdahgren.com. Join Doug Fridays at 11am to meet authors, artists, and other interesting people you may not know yet. Interested in being a guest?

Contact Doug at doug@dougdahlgren.com for details.

Novels by Doug Dahlgren The SON Series
In Paperback or Kindle from www.Amazon.com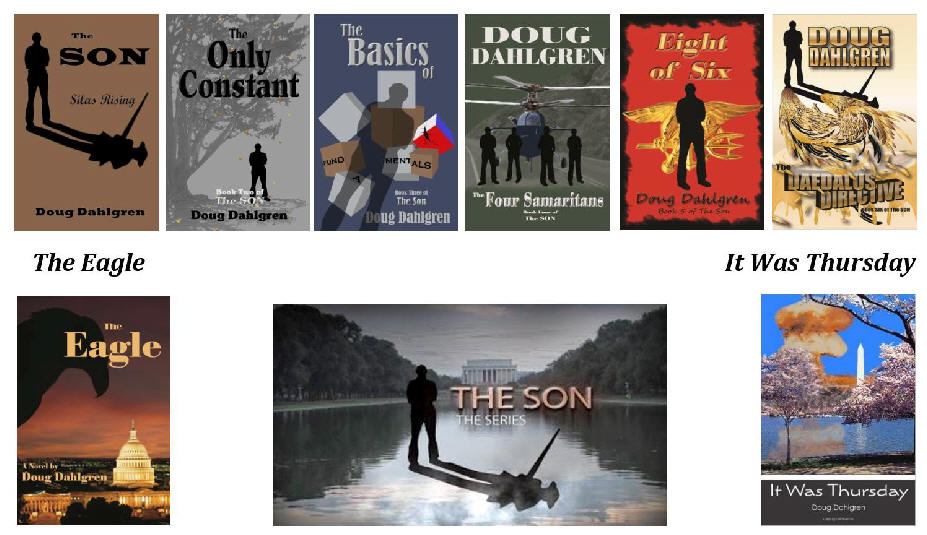 LISTEN TO PAST SHOWS BELOW
2 Ways to listen to past shows:
1. Click date to "Stream" show (it will play like the radio) or . . .

2. "Right Click" on date then select "Save Target As" (or similar i.e. "Save Link As" etc,) and a copy of the show will download to your device which you can then play anytime.
Note to our listeners:
We are updating this webpage. Many more past shows will soon be available below. Please watch for those show postings.
March 31, 2017 Show

Nina Norstorm

Author of "Not a Blue Print". "Not a Blueprint: It's the Shoe Prints that Matter" is an insightful and inspiring personal story of one family's journey through toxic relationships. Nina Norstrom lost her child to a disease, but that wasn't the only toxic relationship she endured. This story in its raw form projects a remarkable voice to the heroic fight, courage, and bravery gained when striking back to wipe out toxic relationships. Hear Nina talk about her struggle and victory.

http://writelife.com/authors/nina-norstrom/

Alan J. Sanders

Writer, actor, producer, radio personality, and entrepreneur, Alan J. Sanders is becoming a nationally know entity, having sub's for Herman Cain on his syndicated radio show through Atlanta's WSB Radio and his own program on Cartersville's WBHF Radio 1450. Alan is active in the acting community and runs AJS Productions, a web design and logo firm serving the southeastern United States. His blog, Freedom Cocktail, written with blog partner, Eric Wojciechowsk, is a popular and often referenced on-line information site.

http://www.ajsproductions.com/

Robert Alan Black

Dr. Black is a consultant, speaker and author. He seeks to help people expand and enrich their natural creative abilities. Once described as is a "migrant worker who picks brains, not fruits and vegetables." He brings his book, "My Angels & My Demons to our program for discussion. It is the story of his four plus weeks behind bars in the Desert. Join us for what will be an enlightening presentation.

http://www.cre8ng.com/
Michael Kenneth Smith

Retired businessman Michael Kenneth Smith began writing to share his stories with the world. He brings us "Scarred" a Civil War story of redemption. History buffs and scholars alike will appreciate Smith's dedication to historical accuracy…This is Michael's second novel. http://www.michaelkennethsmith.com


Georgiana Fields

Georgiana writes paranormal romantic suspense, featuring strong men and resilient women who never give up. In her world, Vampires, Shape shifters, day walkers, and Demons are real. They have lived among us for millennia. Some want to enslave humans, others want to protect us at all cost. As a teen, she would spend her summers on the Atlantic Coast where she developed a love for the ocean, nature, and coastal ghost stories and legends. Some of Georgiana's favorite memories as a child, are of the times she would sit and listen to her aunts tell and retell stories and legends surrounding New Bern, N.C. and other coastal towns. She brings her novel, Crimson Dreams for our discussion.

http://georgianafields.com/books/crimson-hearts/
Heather Rogers

Heather is a professional organizer, owner of Simply Organized and author of "A Simplified Life". She and her team specialize in helping people decrease the clutter in their lives, create a more organized environment, manage their time more effectively, and maintain calm in the midst of a busy life. Her clients include professionals and entrepreneurs who work from home, anyone who is getting their home ready to sell, individuals and families who need help
packing or unpacking, and busy professionals and families who need assistance with time management and space maintenance coaching. She is the Georgia Chapter Professional Development Director of the National Association of Professional Organizers (NAPO) and frequently speaks to groups about the benefits of time management and the costs of disorganization.
Author Tori Bailey

returns to the show with book three of her popular, "Coming Home" series.


Love Made From Scratch. Thomas deals with the loss of his wife, Dee in this continuation of that series.

---
Chuck Gleason

began his writing career at the age of 80 years. He bring to the show his third novel, "Widow", the story of a young wife dealing with the grief of losing her husband in a tragic accident and having to now raise her eight year old son alone. She builds a wall around her life, A wall that is finally breached by a long time suitor. Chuck's other books include "Collision Course" and "Fired Angels."
Author Julia McDermott

is a multi-award winning writer. She writes in many different genres and about many different topics. Her book, All of the Above: My Son's Battle with Brain Cancer is a first-hand look at a difficult time for any parent. We'll talk about that book and others like her psychological suspense novel, Daddy's Girl and Make That Deux, her French travel / romance from 2012.
Rona Simmons

is the author of The Quiet Room and Postcards from Wonderland. Both were historical fiction, yet she thinks of them as stories that just by happenstance took place in the past. Her latest novel, The Martyr's Brother, is straight from today's headlines and set it in present day, Atlanta, Georgia. Rona loves her craft and spends her "down time" either planning, writing, or talking about writing. She has had many short stories and other articles published in literary journals and on-line magazines. Meet Rona and her new book as she spends an hour in conversation with us.
Ross Boone

The guest today is author and illustrator, Ross Boone. Ross has five books in print and has worked with other writer's to illustrate their work. Ross is also known by is nickname, "Rawspoon." The quickest explanation of that would be to simply say his name fast, about three times. His book "Signs of a New Kingdom" is the result of a long put-off trip with his father to Ethiopia. The book is filled with interviews Ross conducted with those he met and the modern day miracles he encountered.